Sunday, July 31, 2011
Cruising with OWH
Have you heard the news? We're goin' on a cruise!
In February 2012, OWHers can take a vacation from the doldrums of winter - and head for the Caribbean for some crafty goodness. We'll leave from Fort Lauderdale on February 4th for
8 days
on the high seas!
Each weekend we'll post some fun cruise details here - ports of call, amenities on board, classes, goodies that are donated. So be sure to subscribe by email to this Homefront Blog and keep up with the news! We'll be setting up an email list with just those who sign up, so we can get lots more info to you about plans coming together.
Pssst Many many thanks to our OWH cruise coordinator Sherry - she's done great work on this so far! And the folks at Cruise and Crop have been so wonderful to work with - thank you Cherie and Gail!
Supplies and workspace
Our plan is to get everything we need to make cards donated - that means you can pack your bikini (time for Sandy to start the diet!) and your coloring medium (we may not get enough for everyone to have a set, so bring what you like to color with).....and just show up in our conference room to make cards! There will be tables for us to work at, tools to share, and goodie bags for everyone with the basics. We'll offer classes all week long, both in our room and out on deck, just to encourage us to get out and about. Stay tuned - we're going to be announcing the classes and the teachers as we get things lined up!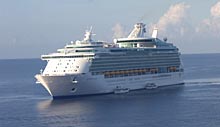 The ship
And as for our ship, the Navigator of the Seas, it has
something for everybody
: mini golf, ice skating, day spa/fitness, full size basketball court, golf simulators (spouse alert!), Adventure Ocean youth activities (keep the teens busy while we make cards), Casino Royale, various restaurants and lounges including Johnny Rockets 50's style restaurant, and internet (Sandy was worried!). Major wow factor! And so reasonable when you compare it to 8 nights at a land-based hotel.
Need a roommate?
We're hearing about a number of ladies who want to go, but will be travelling solo. Email
sherry@operationwritehome.org
if you'd like some help connecting with someone - or leave a comment below and check back to see who else is looking for a friend to share a room with.
Early signups
If you're tantalized and ready to roll,
sign up right away
....the first 25 people will get a special gift from OWH!
We want this cruise filled with 100 OWHers
- but it's open to anyone who signs up, so be sure to reserve your spot on the list quickly.
Help us publicize!
Download one of these badges for your blog - let your friends know if you're going! Click once to make it bigger, then right click - link it to the cruise page:
http://www.cruiseandcrop.com/OWH2012.htm